How low can the oil price go? And how long can it stay down? These two questions are weighing on the mind of every investor in the world these days, to the exclusion of almost everything else. Nobody can respond to the first question with any confidence—although we take a stab below—but the second is actually pretty easy to answer.
As markets move from the Malthusian stage, when everyone imagined the world was running out of oil, into the Schumpeterian phase, when the focus is on new technologies that increase supply and reduce demand (see The Remaking Of Global Oil Markets and this month's Quarterly Strategy Chartbook), low oil prices need to last long enough for one of two things to happen. The first possibility—and the one that almost every trader and commentator still seems to be expecting—is that the Saudis achieve whatever their true geopolitical or economic objectives were in precipitating the price slump, and that they then work hard to re-establish OPEC's monopoly power. The second possibility is that the global oil market moves towards normal competitive conditions, in which prices are set by marginal costs instead of Saudi price-rigging and production decisions. While this second scenario may seem even more improbable than the first, competitive pricing was more or less how the oil market worked for 20 years from 1986 to 2005.
We can only speculate about the prices that might eventuate under either of these scenarios. But we can be more confident about how long each will take to unfold. It is inconceivable that a few weeks or months of cheap oil will be long enough for the Saudis to achieve their geopolitical and economic objectives, which are presumably to break the Iranian-Russian axis supporting the Middle East's Shi'ites and to eliminate the competitive threat from US shale oil. It is equally inconceivable that the oil market will complete the transition from cartelized to competitive pricing in just a few weeks or months. Therefore expectations that oil prices will rebound to above US$80 a barrel in the first or second quarter of 2015 seem totally unrealistic. The best that oil bulls can hope for is that prices stabilize for a year or two in their recent trading range while the long battles over Middle Eastern dominance and global market share get fought out.
But how likely is the present price of US$55/bbl for WTI (or US$59/bbl for Brent) to provide the floor for a new trading range? The answer is speculative, but history suggests that prices will fall by another 15% or so before establishing a new trading range. This can be seen from the chart below, which shows WTI oil deflated by US consumer prices. It is clear that the 40-year period since the rise of OPEC in 1974 can be divided into two distinct regimes, represented by two very different trading ranges.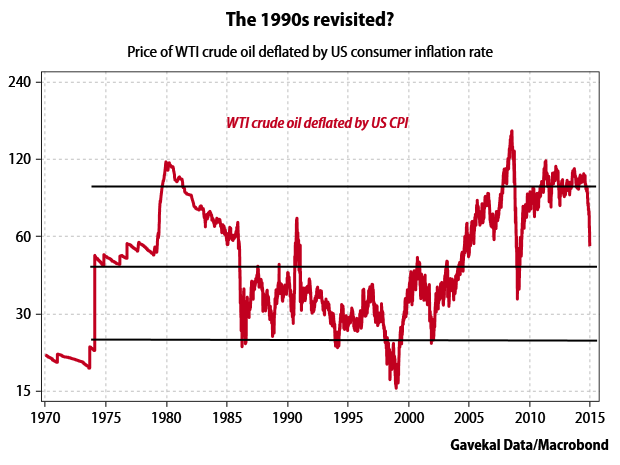 From 1974 to 1985 and again from 2005 to 2014 oil prices occasionally doubled and then halved, but generally stayed in the upper trading range. These were the periods of monopolistic pricing dominated by OPEC. From 1986 to 2004 prices also fluctuated by about 50%, but in a much lower range. This was the period of more competitive market pricing. The demarcation line between the two regimes, adjusted for CPI inflation, is around US$48 for WTI (and slightly lower for Brent, which generally traded below WTI before 2005). Of course history need not repeat itself, but the fact that real oil prices today are still higher than they were in 2005, when the commodity boom started, suggests that WTI should fall by another 10-15% to between US$48 and US$50/bbl before establishing a credible floor for the post-2005 trading range.
Assuming a fall to around US$50/bbl does occur, the next question will be whether the price bounces strongly, suggesting that the post-2005 trading range will hold, or whether it breaks down, suggesting that US$50/bbl will prove the ceiling of a lower trading range similar to 1986-2004, and implying a floor of around US$25/bbl in today's prices.
****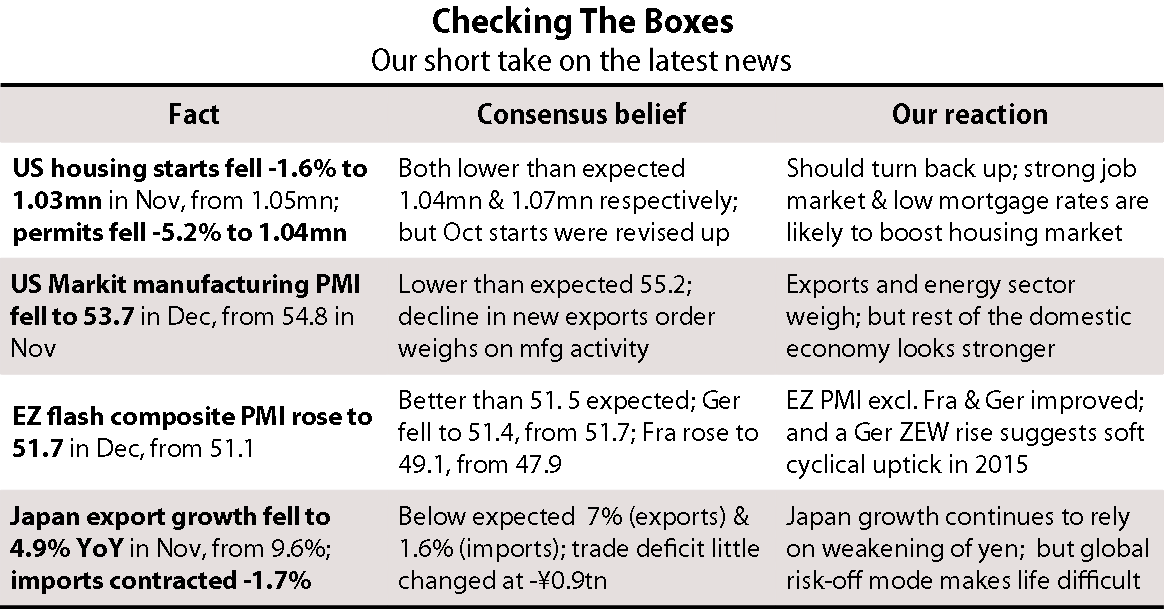 Test Your Knowledge
With Christmas just a week away, most of Northern Europe is getting into the festive spirit. However, which country emphatically does not share the seasonal good cheer this yuletide?
Britain

Norway

France

Germany
Answer (3). Asked if they were looking forward to Christmas this year, between two-thirds and three-quarters of people in Britain, Norway and Germany admitted to being excited about the approaching holiday. In contrast, just 37% of French are expecting a happy Christmas; 57% are feeling downright miserable. The high level of Gallic gloom closely mirrors economic expectations. In France, almost two-thirds of people believe the economy will deteriorate over the next 12 months, compared with fewer than half in most other Northern European countries. Find full details here and here.