Tan Kai Xian
Statistician & US analyst
After graduating with a first-class degree in Quantitative Finance from The Hong Kong University of Science and Technology, Kai Xian joined Gavekal as Statistician, responsible for creating and maintaining databases, developing models and indicators. KX, as he's universally known around the office, also assists valiantly in our coverage of the US economy. He first worked with Gavekal in 2012 and officially joined the research team in 2013. Born and raised in Malaysia, Kai Xian is fluent in English, Mandarin, Cantonese and Malay.
For KX's article archive click here.
---
KX applies the Austrian Business Cycle Theory (ABCT) by utilizing measures such as the "true money supply" as defined by economists of the Austrian School and the unemployment-NAIRU gap to identify where we are in the business cycle and provides a portfolio recommendation. By request, some of KX's charts on this subject are provided below, with the data updated daily.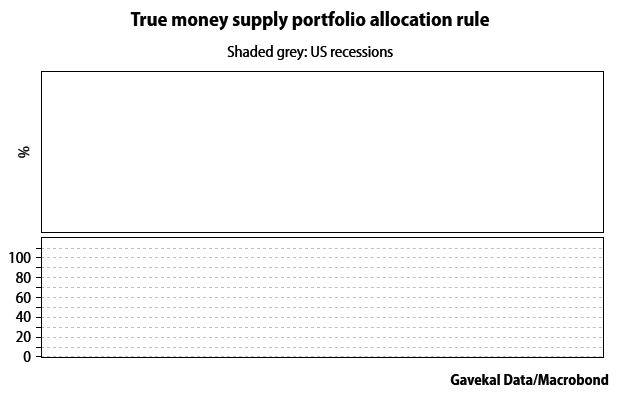 Interactive chart
When the true money supply growth is growing significantly faster than real GDP growth (say more than one standard deviation above its 10-year moving average), investors should go "all-in" on risky assets (in this model portfolio, a 50-50 balanced portfolio of S&P 500 and 10-15 year investment grade corporate bond is used). On the flipside, when the relative growth rate falls substantially (more than one standard deviation below its 10-year moving average), investors are recommended to de-risk (here, T-bill is used as the "riskless" asset). When the spread is above or below the moving average, risk assets should be over- or under-weighted accordingly.
---

Interactive chart
The spread between US unemployment rate and the non-accelerating inflation rate of unemployment indicates whether the US economy is running above or below its potential. When the economy overheats, real profits falls and borrowing rises. This significantly increases the odds of an economic collapse when money supply falls as there are more leveraged businesses in the system. Therefore, investors should be extra cautious and allocate a smaller weight to the risky assets, at least relative to periods of economy running below its potential.
---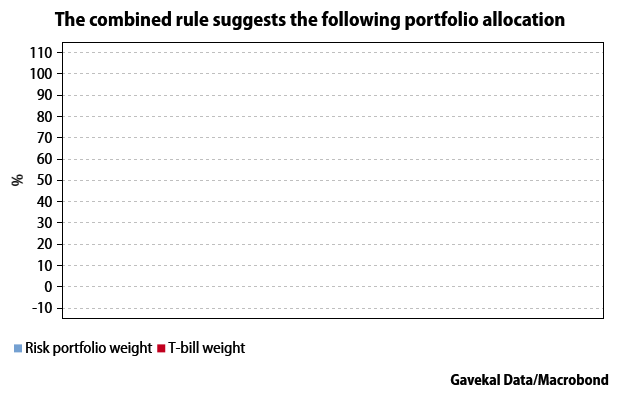 Interactive chart
The combined rule provides higher Sharpe ratio as compared to S&P 500, the Merrill Lynch 10-15 year investment grade corporate bonds index and the 50-50 balanced portfolio of S&P 500 and the corporate bond index as well as the equally weighted portfolio of S&P 500, the corporate bond index and treasury bills, and has successfully pared risk before all of the recessions since 1973 (see A Portfolio For The Monetary Cycle).
The Daily
Gavekal Research

August 8, 2018

More Underperformance Ahead For US Bank Shares

It's been a tough few months for investors in US bank shares. Since late February banks have underperformed the broader S&P 500 index, in large part on fears that the flattening trend in the US yield curve will compress bank net interest margins and depress earnings. Yet viewed on a longer time horizon, things look different.

Gavekal Research

August 3, 2018

Weighing The Forces Driving The US$

Where is the US dollar going next? After weakening markedly against other developed economy currencies at the beginning of the year, the US dollar staged a vigorous rebound in April and May. Since then, the DXY US dollar index has essentially tracked sideways. Of course, trying to forecast the US dollar's moves is frequently a thankless task.

Gavekal Research

July 16, 2018

The Yield Curve As A Recession Signal

Every time since the 1960s that the US yield has inverted, a recession has followed within 18 months to two years. So it is no surprise that the recent flattening of the curve, which has seen the 10-2-year treasury yield spread fall to just 25bp, is attracting attention.
Ideas
Gavekal Research

July 4, 2018

A Better Fed Model

The "Fed model" which values US equities relative to bonds is now more than 20 years old. In that time, it has become widely used and has attracted equally widespread criticism. In this paper Will and KX revise the original to iron out some of its flaws, and come up with an improved model which offers greatly superior risk-adjusted returns.

Gavekal Research

June 28, 2018

The New Model Duration Rule

Choosing the right level of duration for a bond portfolio is devilishly tough. It is doubly so when the global interest rate environment is shifting. For this reason KX is introducing a new top-down based duration management tool which encouragingly offers superior signaling and can be used across multiple developed economy bond markets.

Gavekal Research

April 4, 2018

US Auto Sales: No Longer A Growth Driver

Strong US auto sales in March mask a stagnating longer term trend and rising auto loan delinquencies. Happily, as KX explains, neither has broader implications for overall US consumer demand. Although auto sales may no longer be contributing to US growth, rising bad loans in the sector do not prefigure a wider consumer credit crisis.