Will Denyer
Will writes on a range of topics, but his current area of focus is the relationship between corporate profitability and interest rates (a la Knut Wicksell). He utilizes this framework to monitor the business cycle and provide portfolio construction recommendations. By request, some of Will's charts on this subject are provided below, with the data updated daily.
For Will's article archive click here.
---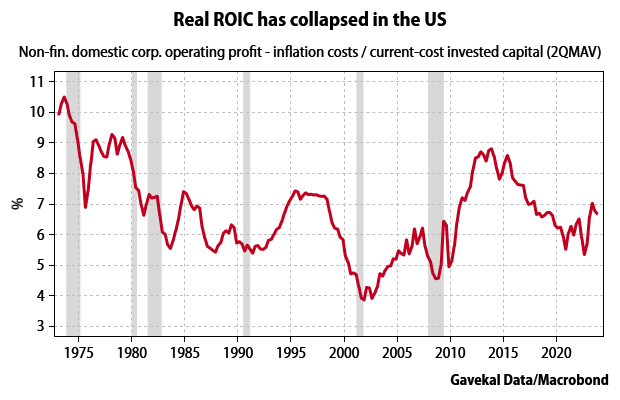 Interactive chart
Real return on investment capital (R-ROIC) is calculated as pre-tax operating earnings, less the cost of replenishing all invested capital at current cost, divided by invested capital at current cost. We then compare R-ROIC to real interest rates to get our "Wicksellian Spreads".
---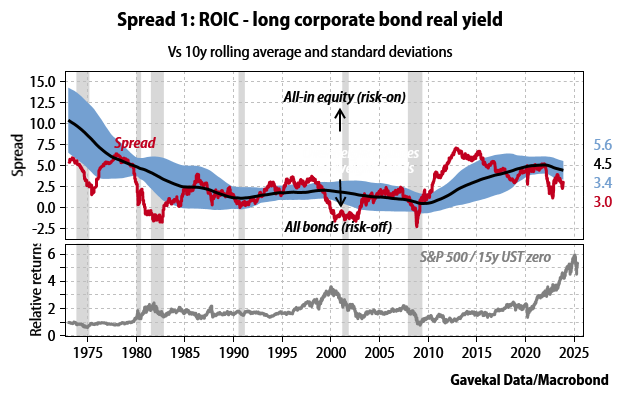 Interactive chart
Portfolio managers should not simply shift between "all-in" and "all-out" based on whether our "Wicksellian spreads" (ROIC-COC) are positive or negative, for both practical and theoretical reasons outlined on slide 19 of Wicksell's Guide To A Better Portfolio.  Instead, we suggest portfolios adjust gradually to changes in various ROIC-COC spreads, as they relate to their long-term moving average. For example, if corporate bond yields are rising relative to ROIC, one should gradually shift in favor of fixed income over equity. Investors might consider very safe corporate bonds, but when this spread is suggests a storm is brewing one is probably better off just buying Treasury bonds.
---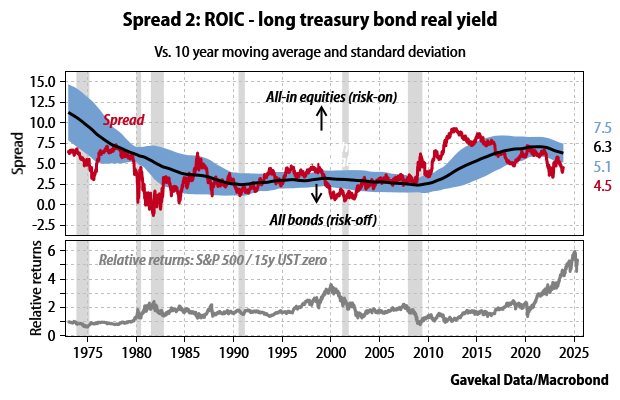 Interactive chart
US companies borrow at varying rates based on their perceived credit risk. Moreover, credit spreads can fluctuate dramatically. So, while the Baa corporate bond yield is a long-time favorite of ours—as a proxy for the cost of borrowed long-term capital for the average US corporation—it is wise to also consider the message coming from long-term risk-free rates.
---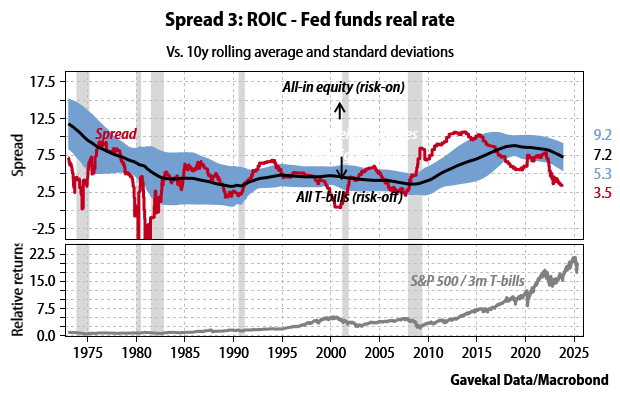 Interactive chart
Most companies also have short-term borrowing needs. So, we also run our analysis using short rates. Here we use the Fed funds policy rate.  If short rates are rising relative to ROIC, one should gradually shift in favor of cash over equities.
---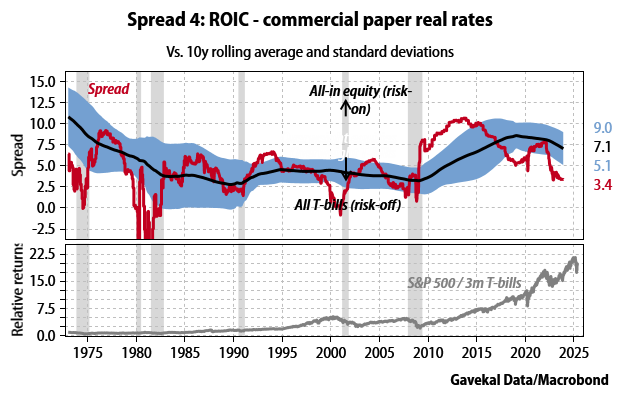 Interactive chart
We also look at the message stemming from 1-month commercial paper rates. In summary, if interest rates (corporate or government, short- or long-term) are rising relative to the prevailing rate of ROIC, portfolios should shift accordingly in favor of fixed income (to reduce risk and also capture the best risk-adjusted returns available).
---

Interactive chart
The four spreads above, in sum, provide the asset allocation recommendations shown above. Exact percentages are not as important as the general weightings of the major asset classes. Equity/risk exposure can range from 0 to 100%, while the allocations to Treasury bonds and T-bills max out at 50% each. The T-bond allocation is determined by the average signal coming from our two spreads based on long-term yields (Treasury as well as corporate bonds).  T-bill positioning is determined by the signal stemming from the two short rate spreads. If the model suggests a heavier weighting on T-bills than T-bonds, that can be interpreted as a recommendation to shorten duration on fixed income portfolios. As a proof of concept, the model has significantly reduced risk (equity exposure) before all of the major drawdowns over the last 40+ years. Current recommendations are shown on the right scale.
---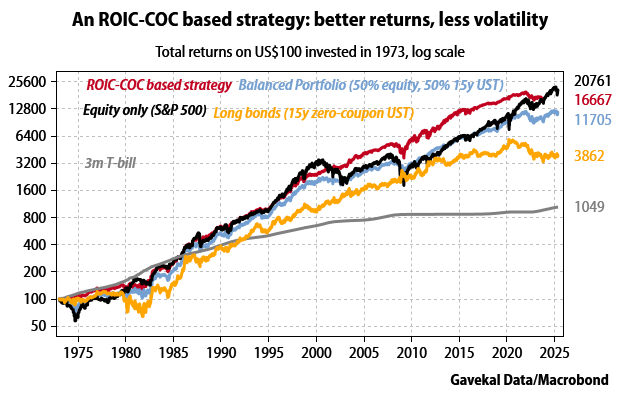 Interactive chart
Charles Gave has shown that Portfolio Building In The Time of Disinflation is simple: by simply keeping portfolios balanced between equities and long-term bonds, managers can reduce volatility without giving up performance. Building on Charles' work on Wicksell and portfolio construction, Will has developed a ROIC-COC based strategy that gets the same low volatility as the constantly balanced portfolio, but superior long-term returns over both inflationary and disinflationary periods (see Wicksell's Guide To A Better Portfolio).
Recent Articles
Gavekal Research

January 27, 2017

Border Tax Adjustments In Context

US president Donald Trump moved a step closer to realizing his "America first" trade policy yesterday, promising a 20% tax on imports from Mexico.

Gavekal Research

January 24, 2017

Trump May Yet Learn To Like Border Adjustments

Last week, Donald Trump dismissed border tax adjustments as "too complicated". He may yet reconsider. If the newly-installed president has one dominant policy objective, it is to make the US more attractive as a destination for investment and as a location for manufacturing.

Gavekal Research

January 18, 2017

Audio & Transcript — Gavekal Research January Call

Charles Gave argued that Donald Trump's protectionist policy could lead to a breakdown of the post-1971 fiat money system that is based on a US dollar standard. Will Denyer deconstructed the likely workings of a new trade taxation regime in the US and explained what that means for currencies.