Will Denyer
Will earned a degree in business and economics at the University of Oklahoma, supplemented by extracurricular education from the Mises Institute. He worked temporarily with our research team in 2005. We decided it was a good fit, so in 2007 he moved to Hong Kong to join our team. Will is now our lead analyst on the US economy. Will speaks English (including the occasional "y'all" in conversation), and is a struggling student of Chinese.

Will writes on a range of topics, but his current area of focus is the relationship between corporate profitability and interest rates (a la Knut Wicksell). He utilizes this framework to monitor the business cycle and provide portfolio construction recommendations. By request, some of Will's charts on this subject are provided below, with the data updated daily.

For Will's article archive click here.
---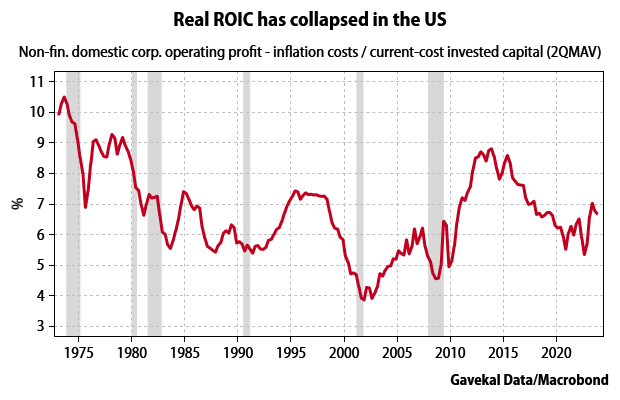 Interactive chart
Real return on investment capital (R-ROIC) is calculated as pre-tax operating earnings, less the cost of replenishing all invested capital at current cost, divided by invested capital at current cost. We then compare R-ROIC to real interest rates to get our "Wicksellian Spreads".
---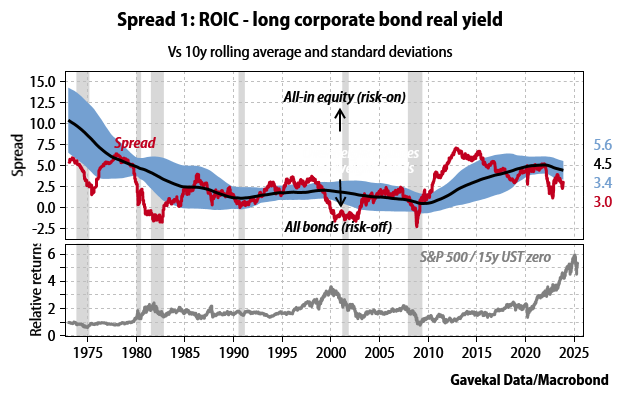 Interactive chart
Portfolio managers should not simply shift between "all-in" and "all-out" based on whether our "Wicksellian spreads" (ROIC-COC) are positive or negative, for both practical and theoretical reasons outlined on slide 19 of Wicksell's Guide To A Better Portfolio.  Instead, we suggest portfolios adjust gradually to changes in various ROIC-COC spreads, as they relate to their long-term moving average. For example, if corporate bond yields are rising relative to ROIC, one should gradually shift in favor of fixed income over equity. Investors might consider very safe corporate bonds, but when this spread is suggests a storm is brewing one is probably better off just buying Treasury bonds.
---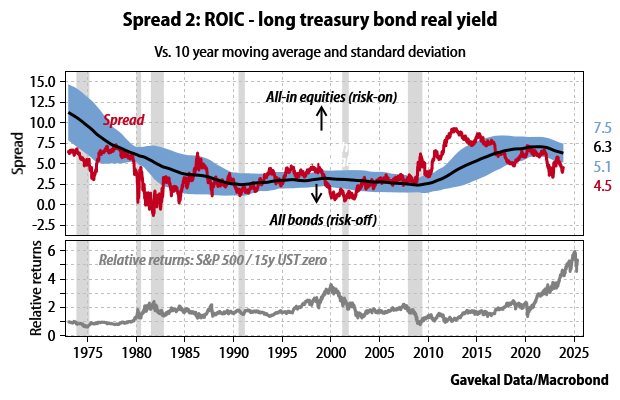 Interactive chart
US companies borrow at varying rates based on their perceived credit risk. Moreover, credit spreads can fluctuate dramatically. So, while the Baa corporate bond yield is a long-time favorite of ours—as a proxy for the cost of borrowed long-term capital for the average US corporation—it is wise to also consider the message coming from long-term risk-free rates.
---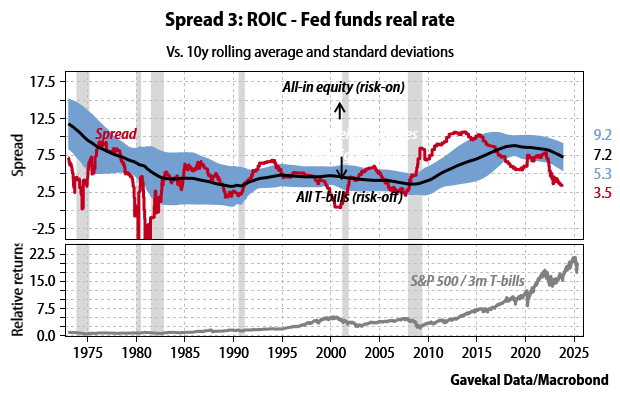 Interactive chart
Most companies also have short-term borrowing needs. So, we also run our analysis using short rates. Here we use the Fed funds policy rate.  If short rates are rising relative to ROIC, one should gradually shift in favor of cash over equities.
---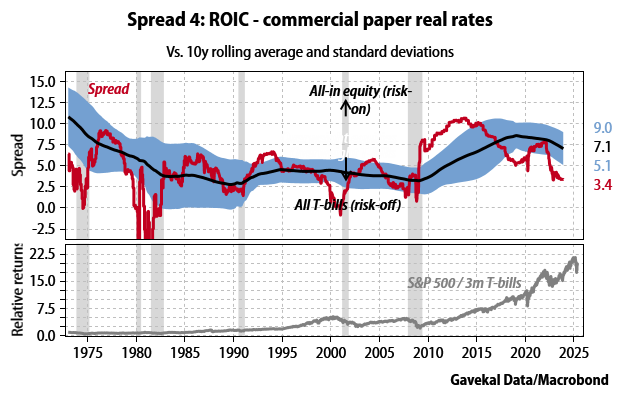 Interactive chart
We also look at the message stemming from 1-month commercial paper rates. In summary, if interest rates (corporate or government, short- or long-term) are rising relative to the prevailing rate of ROIC, portfolios should shift accordingly in favor of fixed income (to reduce risk and also capture the best risk-adjusted returns available).
---

Interactive chart
The four spreads above, in sum, provide the asset allocation recommendations shown above. Exact percentages are not as important as the general weightings of the major asset classes. Equity/risk exposure can range from 0 to 100%, while the allocations to Treasury bonds and T-bills max out at 50% each. The T-bond allocation is determined by the average signal coming from our two spreads based on long-term yields (Treasury as well as corporate bonds).  T-bill positioning is determined by the signal stemming from the two short rate spreads. If the model suggests a heavier weighting on T-bills than T-bonds, that can be interpreted as a recommendation to shorten duration on fixed income portfolios. As a proof of concept, the model has significantly reduced risk (equity exposure) before all of the major drawdowns over the last 40+ years. Current recommendations are shown on the right scale.
---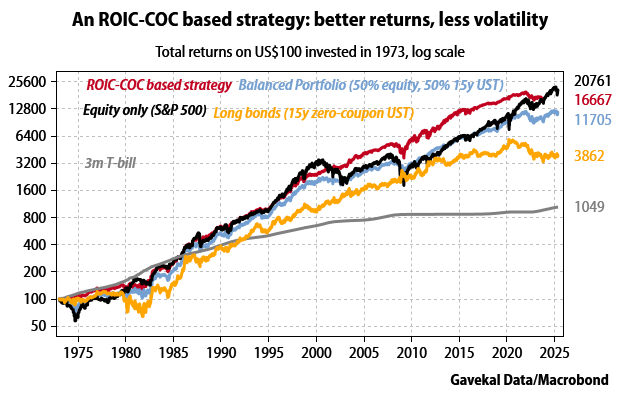 Interactive chart
Charles Gave has shown that Portfolio Building In The Time of Disinflation is simple: by simply keeping portfolios balanced between equities and long-term bonds, managers can reduce volatility without giving up performance. Building on Charles' work on Wicksell and portfolio construction, Will has developed a ROIC-COC based strategy that gets the same low volatility as the constantly balanced portfolio, but superior long-term returns over both inflationary and disinflationary periods (see Wicksell's Guide To A Better Portfolio).
The Daily
Gavekal Research

May 25, 2017

What The Fed Really, Really Means

The Federal Open Market Committee has fired the starting gun on its plan to start shrinking the US central bank's balance sheet before the year is out. The language was coy, but indicated a consensus that outright contraction will start so long as the trajectory of growth and the key policy interest rate matches the committee's expectations.

Gavekal Research

April 27, 2017

Taxing Times In The US

The big news this week is the lack of news. Tectonic changes—that inspired both hope and fear—now look less likely to materialize. The first round result in France's presidential election suggests that the centrist, pro-euro Emmanuel Macron will be the next head of state, rather than the disruptive Marine Le Pen—no révolution in Europe.

Gavekal Research

April 6, 2017

Threats To The US Bull Market

I have spent the last few weeks traveling around Europe telling clients to reduce risk exposure—at least to US equities, if not globally. I see four potential threats to the US bull market, and while none is certain, the odds are high that at least one of them spoils the party. Let's review:
Ideas
Gavekal Research

January 16, 2017

Tax Reform And The Dollar: It's Not So Straightforward

Tax reform is high on the agenda both for US president-elect Donald Trump and for the new session of Congress that began earlier this month.

Gavekal Research

December 7, 2016

Cash Repatriation Won't Trigger A New Buyback Boom

With the incoming US administration promising big tax breaks on the repatriation of corporate cash piles held overseas, Wall Street is confidently predicting a renewed equity market buyback boom in 2017. On first hearing, this sounds like a reasonable expectation.

Gavekal Research

November 30, 2016

A Wicksellian Spread Update

US economic growth and corporate profits both rebounded in the third quarter. Yesterday the Bureau of Economic Analysis revised its number for 3Q16 growth in gross domestic product up from 2.9% to 3.2% year-on-year. At the same time the BEA also released its first estimate of 3Q corporate profits, which at first glance also looked positive.
Multimedia
Gavekal Research

April 5, 2017

London Seminar — March 2017

In Gavekal's seminar in London last week Will Denyer, Charles Gave, Tom Miller and Anatole Kaletsky presented their macroeconomic outlooks and offered investors asset allocation advice.

Gavekal Research

February 22, 2017

Hong Kong Seminar — February 2017

Gavekal's global macroeconomic seminar in Hong Kong in February featured Anatole Kaletsky, Will Denyer and Louis-Vincent Gave. They presented on the global investment outlook under a Trump presidency, the decline in US productivity, and the sustainability of the "Trumpflation" rally.

Gavekal Research

January 18, 2017

Audio & Transcript — Gavekal Research January Call

Charles Gave argued that Donald Trump's protectionist policy could lead to a breakdown of the post-1971 fiat money system that is based on a US dollar standard. Will Denyer deconstructed the likely workings of a new trade taxation regime in the US and explained what that means for currencies.