Enough is enough. The oil price collapse that began in the autumn of 2014 may have hit rock-bottom, at least for the time being. Having stayed stubbornly bearish ever since the oil market's transition from a Saudi monopoly to a normal competitive pricing regime (see Oil: Lower For Longer) it is appropriate to regularly review our assumptions. After the huge price moves of the past two weeks, this review now suggests turning neutral or even tactically bullish.
There are at least two reasons to turn more positive on oil, partly counterbalanced by two others which suggest that another leg of the bear market should eventually be expected, with a final low considerably below the US$30 per barrel level tested this week.
The first argument for turning more positive is simply that the -73% price collapse, from US$110/bbl to US$30/bbl since the summer of 2014, already reflects a lot of the deterioration in fundamentals. Back in the autumn of 2015 we argued that after the breakdown of Saudi monopoly power, oil would trade in a range of US$25 to US$50 for many years ahead. These figures were based partly on historical experience (see chart below) and partly on industry consensus guesstimates about marginal supply costs, with the most expensive producers, such as shale and tar sands, setting the ceiling and marginal low-cost producers such as Kazakhstan and Russia putting in a floor. At US$30 this long-term price adjustment may not be completed, but a temporary correction is plausible since there is much more potential upside than downside within the US$25-50/bbl range.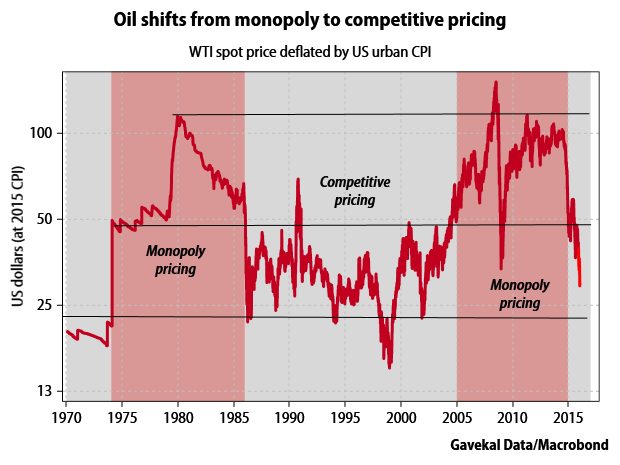 Interactive chart
An upside correction becomes much more likely when bearish sentiment becomes as extreme as it has this week. Analysts, some of whom had previously expected a rebound to US$70 or even US$100 are now bidding for attention with downside predictions of US$25, US$20 and below.
The second and most important reason to turn more positive is the widespread misunderstanding about the macro-economics of cheap oil. The falling oil price is now almost universally seen as a leading indicator of weak economic growth—and therefore even weaker energy demand. Yet history shows that falling oil prices generally presage an upturn in activity, not a recession. Every global recession since 1970 has followed a sharp increase in oil prices, not a decline. And economic analysis supports the same conclusion, since a US$60 fall in oil prices redistributes US$2trn of income annually from producers to consumers and also guarantees extremely dovish central banks (see  Stop Worrying And Learn To Love Cheap Oil). To put it another way, the sharp fall in oil prices this year has certainly been disruptive, but a low price level, once it stabilizes, should be good for economic growth.
Of course, collapsing oil prices cause financial disruptions. But bankruptcies among over-leveraged players can actually be a boon for larger oil companies, which can buy bankrupt competitors instead of wasting money on exploring for new oilfields. In short, investors are now almost unanimously assuming a vicious circle whereby collapsing oil prices cause a global slowdown which leads to even weaker energy demand and further oil price declines. But history and economic analysis both suggest a self-stabilizing process, as cheap oil supports economic activity and modestly boosts energy demand.
Now for the bad news—or the really good news, if you accept our arguments about the benefits of cheap oil. Even if oil prices soon stabilize or rebound as suggested above, there are two broad reasons to believe that this will be just a temporary correction, rather than the end of the long-term bear market in oil.
The main reason to remain structurally bearish is that long-term fundamentals remain unfavorable for fossil fuels. Environmental constraints and electricity technologies now permanently limit demand growth, while supply from Middle East producers plus Russia and Venezuela will continue to expand rapidly if these governments conclude that much of their oil wealth will ultimately become a "stranded asset", abandoned worthless underground like most of the world's coal reserves.
Longer term indicators of speculative positioning and sentiment also remain unfavorable. While short-term price forecasts have swung from bizarrely bullish to extremely bearish, analysts and investors are still almost unanimous in believing that prices will rise well above US$50 within a year or two. This bullish sentiment can be seen in the almost unprecedented contango seen in the chart below. Oil one-year forward still trades US$7 (or 22%) above the spot price, while oil five years forward trades at a premium of US$20 (or 64%). Investor positioning is also too bullish to suggest a long-term market bottom, with non-commercial long positions still far exceeding speculative shorts, presumably because many long-term institutions remain committed to commodities for asset diversification, while retail ETF investors have still not capitulated on their bullish bets. Such a full-scale capitulation is likely before the bear market is truly over, but markets rarely move in straight lines. So maybe the oil bulls can now expect a temporary reprieve.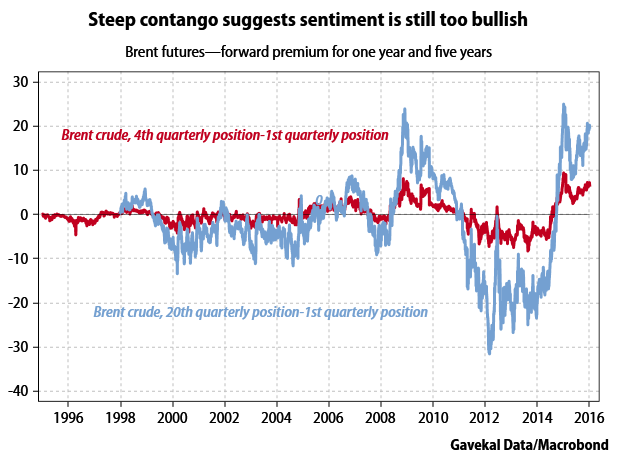 Interactive chart
****