The Challenge For Equity Markets
Rendered to its bare bones, an equity price is a stream of future earnings, discounted by both a risk-free rate and an appropriate risk premium. And at its core, this simple equation summarizes the challenge confronting investors in US equities for it is clear that the risk-free rate will struggle to move much lower, while current valuations point to a risk premium that is near its floor (the P/E ratio for MSCI US stands at 21.5x, or almost one standard deviation above its historical average).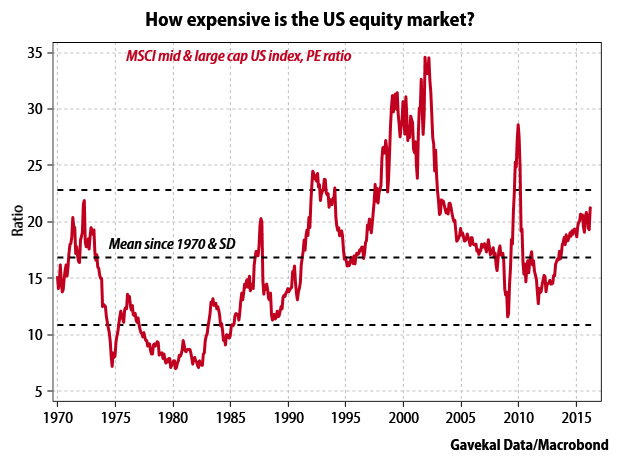 Interactive chart
Hence, for any investor operating on the basis that US equity prices will move higher, logic dictates that they must expect a very solid stream of future US corporate earnings. And herein lies the rub: US earnings have lately been pointing in the wrong direction.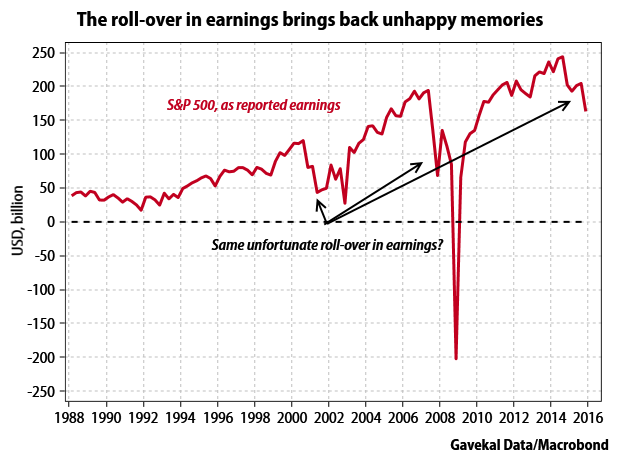 Interactive chart
What can turn US earnings?
So what can turn US earnings around? The strong US dollar means it is unlikely that many American exporters will generate a fresh surge in profits from overseas operations. Meanwhile, the recent roll-over in earnings may simultaneously indicate that, after seven years of zero interest rate policies and massive share buy-backs, corporate America has no more scope to financially engineer its way to profitability (note that 2016 has so far witnessed a large drop in share buybacks).
This means that any rise in US corporate earnings in the coming quarters will have to be the result of improved US economic activity. And this is where things gets challenging, for over the past 18 months US data has disappointed on a fairly reliable basis.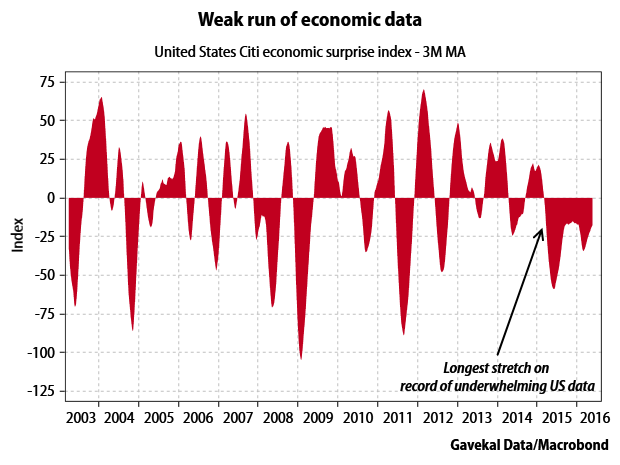 Interactive chart
An argument can, of course, be made that the US economy has lots of pent-up demand and is primed to rebound. Perhaps, but the next question is whether the current political environment in the US is conducive to the unleashing of such a coiled spring. Put yourself in the shoes of a US businessman today: on the left, Hillary Clinton is promising the greater business community a higher minimum wage, potentially increased medical coverage costs, more capital gains taxes and possibly higher tariffs (rejection of the Trans-Pacific Partnership free trade deal and all that). On the right, Donald Trump is (definitely) promising higher tariffs, along with a rise in the minimum wage, greater difficulty in hiring foreign talent, increased capital gains taxes and potentially higher medical costs.
With this kind of uncertainty, who is going to hire workers or break ground on a new factory? Simply put, could the uncertainty surrounding a potential Trump presidency, along with the Clinton campaign being forced to the left by the Bernie Saunders insurgency, be one of the reasons for the recent disappointing US jobs numbers? And, if so, will the situation really change in the coming months? Moreover, is the Federal Reserve really going to raise rates in such an uncertain political environment? Surely, the better Trump does in the polls, the more likely the Fed is to delay any rate hike until after the election (of course, should Trump get elected, there may not be another rate hike for years!).
The rest of the world has a different dynamic
Before we fall prey to excessive pessimism, it should be remembered that conditions outside of the US are somewhat different. Specifically:
In Europe, like the US, it is hard to imagine the risk-free rate or the risk premium contracting meaningfully. Therefore, any equity gains will also have to come through an expansion in corporate earnings. The key difference between Europe and the US is that after five years of very little growth, the European economy is arguably more of a coiled spring and will benefit from an undervalued exchange rate.
 
In Japan, the same picture can be painted with the added bonus of a potential start to financial engineering and share-buybacks (see A New Marginal Buyer Of Japanese Equities).
 
In Asia, the picture is different as the risk-free rate in most countries (whether China, Indonesia, Philippines, India, Malaysia, Australia) is now falling. Thus, Asia is the one major economic region where equity markets could rise without a big bump in the numerator (i.e. the stream of future earnings), but simply through the continued contraction of the denominator (risk-free rate + risk premium).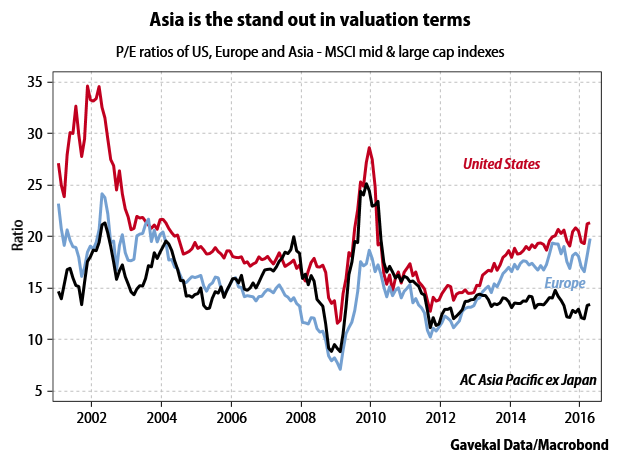 Interactive chart
This latter point brings us to the final challenge confronting equity investors. On the one hand everything seems to favor an overweight in Asian equities: attractive valuations, easier fiscal and monetary policies, a broad lack of political uncertainty, falling interest rates, a US dollar that is no longer rising and highly conservative foreign investor positioning. Yet on the other hand, the highly cyclical nature of Asian corporate earnings means that its markets have historically fared poorly in periods of weak US market performance. And hence today's quandary: can US equity markets withstand an uncertain domestic political environment and stretched valuations and thereby allow the unfolding of a bull market elsewhere?