Asia's Best Market Reaches A Precipice
Long derided as the "sick man of Asia", the Philippines has morphed into a balanced development story with growth averaging about 6% since 2011. Unlike most emerging markets which thrived in recent years on China's appetite for commodities, Philippine growth has been underpinned by robust domestic demand. It has also benefited from an unusually long period of fairly trouble-free governance so when Filipinos go to the polls on Monday to elect a replacement for President Benigno Aquino III, much is at stake. His successor should pick up a fairly decent situation, with the economy having low leverage, an investment grade rating and, if needed, scope for policy stimulus. Still, after a six-year upswing, both the economic and political cycles do not look favorable to investors.
All hail the populist
President Aquino is barred from pursuing a second term due to electoral term limits, so a few months ago he backed Manuel Roxas, a Wharton School graduate and son of a past president, with the idea of sprinkling stardust on a fellow patrician from his own party. It was also hoped to neuter the candidacy of Vice President Jejomar Binay (the president and vice president are elected separately and can belong to opposing parties as was the case with Aquino and Binay). But as often happens with personality-driven elections in the Philippines, big characters have dominated and undermined backroom dealings. The front-runners to succeed Aquino have emerged in recent weeks as the neophyte senator Grace Poe and the "no-nonsense" Davao City mayor Rodrigo Duterte.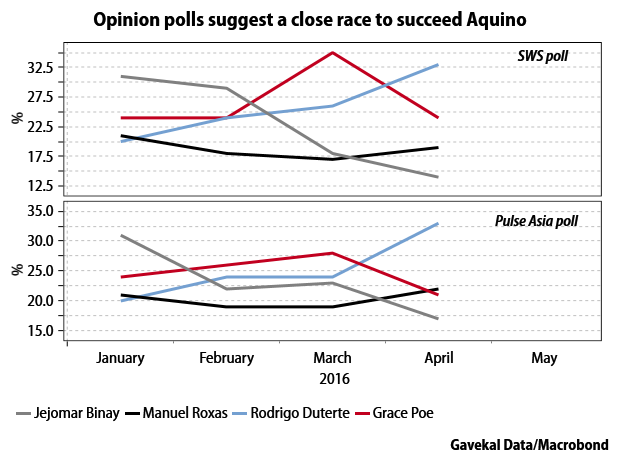 Interactive chart
Given the electorate's generally favorable view of President Aquino's term, there seems little need to change course, and indeed there is not much to distinguish the  policy priorities of Roxas, Binay and Poe, which all have a market-friendly liberalization bias. The concern among electors is that the mainstream candidates seem in hock to big business groups and so popular support has swung to the "outsider" Duterte, whose combative style is similar to Donald Trump's. Voters like Duterte's promises to tackle crime (by killing lots of criminals) and corruption; however his penchant for extra-judicial solutions will likely be a concern for investors.
The eventual winner from Monday's poll seems likely to be elected with a vote share below the 40% average achieved by the winner of the last three elections. The concern is that the absence of a strong mandate will limit the new president's ability to pursue tough reforms such as opening protected areas of the economy to foreign investors and lowering the corporate tax rate, which at 30% is the highest in the region. It also casts doubt on the new government's ability to get fiscal spending—especially on infrastructure—through Congress should it be necessary to stimulate.
Shock resistant
In recent years the Philippine economy has proven resilient to shocks including the 2013 "taper tantrum", the commodities bust, a rising US dollar and fears of China's economy suffering a hard landing—since 2013, the JP Morgan EM Currency Index has fallen by more than -30%, while the peso is down -10% against the dollar. As a net commodity importer, the Philippines was expected to benefit from lower raw material prices and, indeed, inflation undershot the central bank's target of 2-4% last year, allowing it to keep rates at a record low. On the external front, the current stability has been supported by large remittances from overseas Philippine workers, which constitute about 10% of GDP, and more than offset a growing trade deficit, while also keeping the banking system nicely liquid.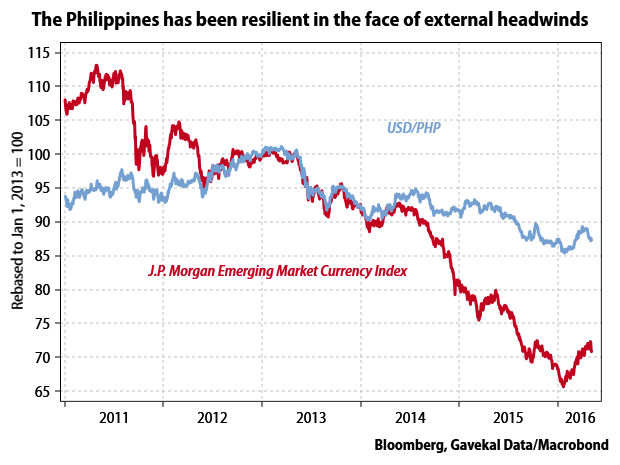 The wrinkle in this story of external stability is that it may be temporary. Around a quarter of the US$25bn in annual remittances come from workers employed in the Middle East which has been severely impacted by the oil price plunge—employment is usually a lagging indicator and as workers are retrenched in that region the relatively stable 7% annual growth in Philippine remittances over the last five years could roll over.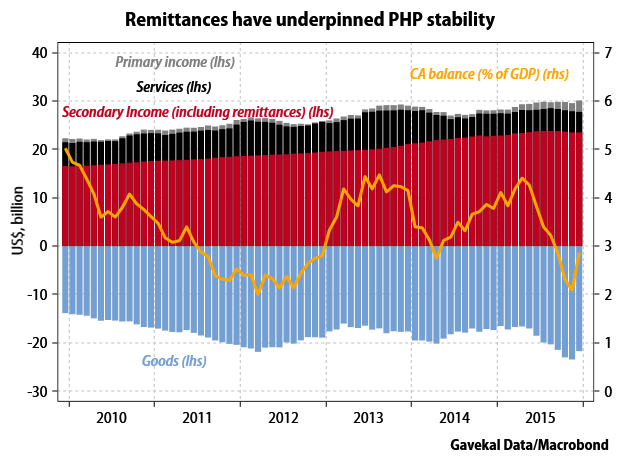 Interactive chart
So although headline inflation remains benign, a slowdown in remittances coupled with tighter global liquidity, poses challenges for the banking system. Superficially, a relatively low loan-to-deposit ratio of 66% suggests scope for lending to pick up. However, anecdotal evidence points to the low ratio reflecting a lack of creditworthy lending opportunities in the broad economy. As a result, lending has become concentrated with nearly a quarter of banks' loan books exposed to real estate activity. This is a concern as the property market is softening on greatly expanded supply and reduced demand from expatriate Filipinos. As such, the system-wide non-performing loan ratio of 1.7% may have troughed cyclically.
Infrastructure remains the Achilles heel
To be sure, even if a monetary policy tightening is forced due to liquidity concerns or a jump in inflation, fiscal policy can be deployed to offset weak external and private sector demand. The Philippines has run a tighter than warranted fiscal policy given its decent fundamentals—a primary surplus, averaging 2.5% over the last five years, has helped lower the public-debt-to-GDP ratio to less than 40%. One consequence of this prudence is that public spending on infrastructure has lagged its peers at about 2.5% of GDP over the same period. Plans are afoot to double the share of government spending on infrastructure in the next three years to about 5.4% of GDP by 2018. Unfortunately, if a popular President Aquino could not accelerate infrastructure spending, there must be doubts that a successor with a less impressive mandate can succeed.
In the final analysis, without the anchor of a strong externally or internally driven impetus to growth, the risks to the Philippines' growth story are tilted to the downside. Already, corporate earnings momentum has decelerated with EPS growth for MSCI Philippines constituents declining by about -5% over the last year, while recent revisions have been lower. With the Philippines' medium term outlook increasingly resembling that of most other emerging markets, the rich valuation of equities—a trailing P/E of 20x and a forward P/E of 17x—seems unjustified.