Are Multinationals Losing The Chinese Consumer?
As regular readers know, the "acceleration phenomenon" is one of our most important tools for understanding consumption in China and other emerging markets. We have argued that while in China this pattern of income and consumption is no longer driving fast growth in mass-market goods like appliances, it is driving a surge in spending on things desired by the more affluent, like foreign travel and high-end consumer goods (see Accelerating Into Affluence). In theory this trend should be good for multinational companies, as they have strong brands and plenty of experience selling to households at higher income levels. But in the automobile market, there are now signs that local Chinese companies are capturing much of the gains from this new stage of consumer spending—a worrying development for multinationals counting on China growth.
The automobile market is in fact one of the best examples of our acceleration phenomenon. This term refers to the pattern that spending on particular consumer goods tends not to increase gradually over time, but to surge dramatically when large numbers of consumers cross the right income threshold. It is a function of the fact that the propensity to buy certain goods does not rise smoothly along with income, but moves in steps. Households below a certain income threshold are very unlikely to buy a car, but once they cross the threshold they are. The fact that huge numbers of Chinese households were crossing that very threshold (roughly US$13,500 per household at 2012 prices) over the past decade helped drive the explosive growth in automobile sales. Now however the number of households crossing that threshold—what we call "established consumers"—is not growing anymore. What is growing is the number of households crossing over a new, higher threshold—what we call "affluent consumers." These households are, stereotypically, not going to be as interested in buying a basic mass-market car, as they probably own one already. They want something fancier, and the default option for affluent Chinese is now the sport-utility vehicle. Since SUV sales are tracked separately in China's statistics, they provide a pretty decent proxy for the rise of the affluent consumer.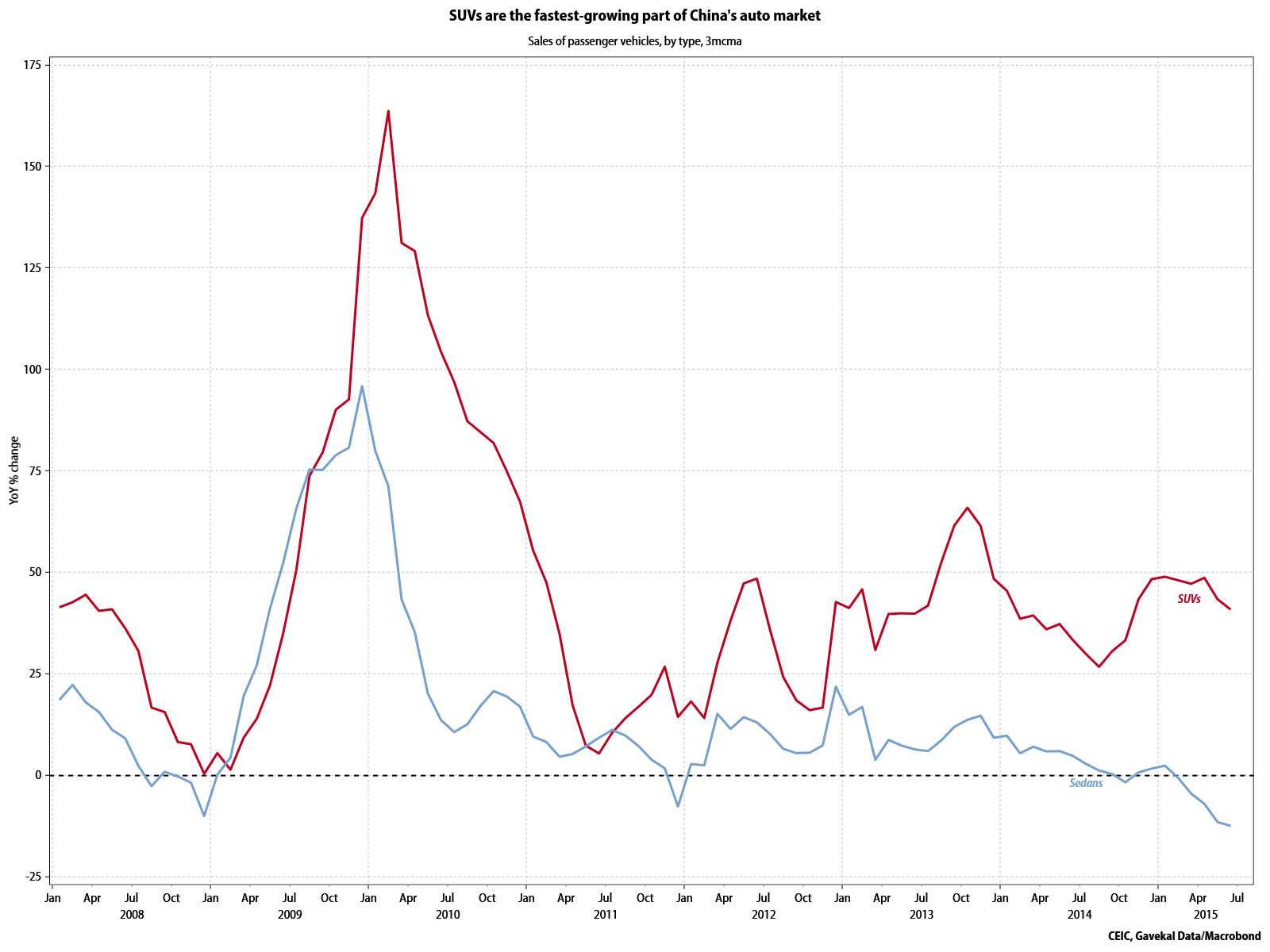 SUVs are in fact where all the growth is happening in China's auto market. SUV sales started growing faster than sedan sales in 2010, and for the past four years or so have been registering 20-40% growth rates in unit terms. Sedans by contrast are a mature market, and unit sales in fact have been falling outright in YoY terms since March. As a result 29% of all passenger vehicles now being sold are SUVs, up from 20% a year ago and just 10% in 2011. This pattern seems to line up well with our acceleration model. SUV sales growth first started to really outpace sedan sales between 2010 and 2011, the same period when the number of households crossing the "affluent" threshold doubled from 4m a year to 8m. By 2014, the number of new affluent households had reached 12m, and our model projects 18m new affluent households will be formed each year by 2018. As long as China's nouveau riche do not lose their taste for SUVs, the fundamentals suggest there is still lots of growth to come.
All this should be good news for major global car firms, who have been selling SUVs to affluent households elsewhere in the world for years. Indeed in the early years of the SUV boom the global firms dominated: sales of SUVs, MPVs and crossovers produced by the foreign automakers' local joint ventures rose more than 70% in 2013, while domestic firms only managed a measly 10% sales growth. Indeed Shanghai Volkswagen's Tiguan is still second-best-selling SUV on the China market. Yet over the past year domestic firms have started to catch up. Sales of Chinese-branded SUVs grew around 30% YoY in the first half of 2015, well above the 12% growth managed by foreign brands. In the first half of 2014, Chinese brands accounted for only three of the top 10 best-selling SUV models; in the first half of this year, six of the top 10 SUVs are local brands. This is truly a new phenomenon in the auto market; by comparison, foreign brands account for all of the top 10 best-selling sedans.
What accounts for this turnaround in fortunes? Domestic brands seem to have finally cracked the code of offering quality and style at a reasonable price point. The Nissan X-trail sells for RMB 208-270,000 while Great Wall's Haval H6 retails for 96-142,000. Great Wall, a nimble private-sector carmaker specializing in SUVs, has in fact been one of China's more successful carmakers over the past few years (see our profile). The real surprise is in the success of the SUVs produced by the domestic arms of the big foreign joint ventures, the result of a government requirement for these companies to launch their own brands. For instance, Chongqing Chang'an has two of its own SUV models in this year's top 10 list; it also has a joint venture with Ford, which makes the ninth-ranked Kuga SUV. It's understandable that with more choice and higher quality available from domestic brands, even China's newly-affluent consumers are not as willing to spend twice as much for a foreign brand.
What's even more surprising is that the domestic brands seem to have gained market share without cutting their margins to the bone in a ruinous zero-sum game. Great Wall, the biggest manufacturer of domestic-branded SUVs, had a stunning gross margin of 25% in 2014. Chang'an's gross margin was a less spectacular 15%, but this is close to the industry average. And rather than sitting back and letting domestic brands fight it out, foreign brands are cutting prices to gain back market share: in May GM cut the price of its Chevy Captiva SUVs by 20%, while Ford cut the price of the Explorer SUV by 8%. It's no wonder they are worried: multinational brands may be happy to concede the low-end market to local firms, but their growth strategies require having a decent presence in the high-growth, higher-margin market for the goods desired by affluent Chinese.
Beyond cars
The automobile market thus offers evidence that domestic firms are hitting the sweet spot for affluent customers in the same way that they are already dominating lower down the price curve—providing "good enough" quality at substantially lower prices. If domestic firms can capture the growth markets being driven by the latest stage of the acceleration phenomenon, then many multinational firms may get much less growth from China than they and their investors have been counting on. Indeed, playing the rise of the Chinese consumer through US and European consumer-goods firms has been a very popular investment strategy for many years (see Europe And The Chinese Consumer). Whether local companies will be able to repeat the success they are having with SUVs with other high-end consumer goods is therefore one of the biggest questions for Chinese consumer markets in the years to come.
Of course, cars are just one consumer good—albeit a huge and important one—and the dynamics of the auto market will not necessarily be repeated in other consumer products. Still, the news for multinational consumer-goods companies in China has not been great of late. Firms as diverse as the Anglo-Dutch Unilever and Japan's Shiseido have reported falling China sales in recent quarters, a problem that may be related to their failure to adapt quickly enough to the rapid rise of online commerce. A recent survey by Bain found that foreign brands have lost market share in fast-moving consumer goods for three straight years; in 2014, Chinese brands gained market share in 18 of 26 categories surveyed. If this trend continues then the rise of the Chinese consumer may end up being much more of a local story than global companies were hoping.