Founded in 2001 by Charles Gave, Anatole Kaletsky and Louis-Vincent Gave, GaveKal is one of the world's leading independent providers of global investment research. It also advises several funds, with combined assets of more than US$1.2 bn. With eight partners and 45 employees, GaveKal has its headquarters in Hong Kong and offices in the US, Europe and China.
GaveKal generates original ideas. Our core service is to identify gaps between economic reality and market expectations, help clients question conventional wisdom, and think more clearly about global macroeconomics and the forces driving financial markets. We deliver our insights to clients through research publications, seminars, conference calls and face-to-face meetings, data services, and money management strategies. The firm's unique culture prizes thinking, debate, listening and accessibility. There is no 'house view' or 'party line': our partners engage in vigorous arguments on major economic and financial questions, and we share these debates openly with our readers. Constant interaction with subscribers and investors is a crucial source of inspiration. At GaveKal we like to say that 'most of our best ideas come from our clients'.
GK Research provides research, analysis and opinion on global macroeconomic and market trends. Information from our proprietary monetary and growth models is complemented by the seasoned insights of founding partners Charles Gave, Louis-Vincent Gave and Anatole Kaletsky, and in-depth research by our analysts in Hong Kong, Beijing and Paris.
We publish a variety of reports ranging from short daily notes on market events to quarterly strategy presentations. Our publications are:
Daily Comment is our quick take on the most important news of the moment.
Ideas pieces, published 3-5 times a week, present deeper economic and market insights.
Five Corners, published every two weeks, briefly updates our views on the global investment environment.
Growth & Markets Monthly reviews our proprietary models and indicators, and reviews key investment themes.
Quarterly Strategy Chartbook synthesizes our global economic and market views and provides an easy-to-use roadmap for tactical and strategic investment decisions.
Thematic Chartbooks, published a few times a year, present detailed analysis of major themes and trends.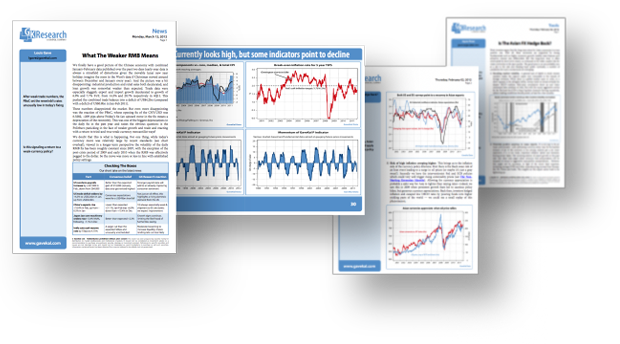 Each day subscribers receive a morning email with our take on the most important news of the moment, and a summary of key global economic indicators. Later in the day a second email contains links to other, more in-depth reports published that day.
Each month we publish a
Growth & Markets Monthly
, which updates all our indicators and provides a snapshot of the global investment environment. Every three months we publish a
Quarterly Strategy Chartbook
, which synthesizes our views of global economic and market themes, and provides an easy-to-use roadmap for tactical and strategic investment decisions.
All research subscribers receive complimentary admission to
GaveKal Investment Seminars
, where partners and analysts present our latest research in an interactive format. Research Seminars are held twice yearly in New York, London, Paris and Hong Kong, and annually in other cities including Dallas, Stockholm, Geneva, and Singapore.
One of the distinctive features of GK Research is the high level of personal contact between subscribers and our partners and analysts. Research subscribers are encouraged to comment on our work, either by email or directly on our website, and we try to respond to all comments within 48 hours. Subscribers to our premium
Advisory Service
enjoy personal access to partners and senior analysts several times a year via face-to-face meetings and conference calls.
To register for a free trial, please click
here
.
GK Dragonomics provides in-depth research on the economic, political and social developments driving the world's fastest growing major economy, China. The firm was established in Beijing in 2002 by Joe Studwell and Arthur Kroeber, and became part of the GaveKal group in 2007. Our Beijing-based team of seven analysts combines rigorous data analysis with on-the-ground reportage to produce unique insights for institutional investors, multinational corporate strategists, and governments.
Subscribers to GK Dragonomics research receive the following publications:
China Economic Quarterly, a 60-page magazine that draws on our own research and contributions from leading industry and academic experts to produce the world's most authoritative analysis of the Chinese economy.
DragonWeek, a concise weekly take on China's most important economic and market news, published each Monday.
Occasional research notes (one or two each week) providing in-depth investigation of current topics.
Detailed chartbooks including a quarterly presentation on macroeconomic developments, and annual presentations on China's trade, energy and property sectors.
Occasional specialized reports commissioned exclusively for GK Dragonomics readers from other leading China research boutiques. Third-party providers include Fathom China (deep-dive reports on Chinese companies), RedTech Advisors (sector reports on technology), and the Research Center on Chinese Politics and Business (analysis of China's economic and industrial policies).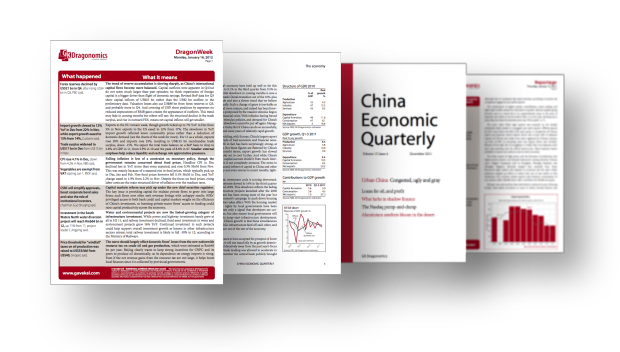 GK Dragonomics analysts participate regularly in
GaveKal Investment Seminars
in New York, London and Hong Kong. Subscribers to our
Advisory Service
enjoy regular access to partners and analysts via conference calls and face-to-face meetings.
To access Dragonomics research, click
here
, or see the articles marked [DG] on the
GaveKal Research site
.
To register for a free trial, please click
here
.
At GaveKal we firmly believe in sharing not only our conclusions but our processes with our clients. This stems from our conviction that the more information is shared, the more it is improved on and the more valuable it becomes. For this reason, we have invested in our own macroeconomic and financial data and charting system, GaveKal Data, in conjunction with our friends at
MacroBond
.
Aside from being a world class data platform with more than a 100,000 databases of macroeconomic data and company fundamentals, GaveKal Data also enables subscribers to open any chart in a GaveKal document, download and automatically update the underlying data, and change parameters and formulas to experiment with alternative scenarios. This means that investors can reality-test our analyses, and keep track of our calls over time. The combination of GK Research and GaveKal Data gives investors a 'one-stop shop' including financial data, models and indicators built with that data, and analysis and investment conclusions flowing from the models.
For a free trial of GaveKal Data, click
here
or contact
sales@gavekal.com
.